Here at Kennings, we've been around for quite a while, and if you have lived around the Goole area, there is no doubt you will have received one of our many amazing promotion leaflets. We have been digging through the archives and we've found some fantastic old leaflets guaranteed to give you some nostalgia and make you wonder why you didn't stock up on fence panels in 2002…
Fence panel launch
When we launched our first kind of European Style panels, they were all the rage. They're still as popular today, but the prices are a little different! Who remembers when you could get a 6'x6′ panel for only £39.75 (INC VAT)? It would cost more than that in timber in 2022! Nowadays our 1.8m x 1.8m Elite St Lunair Panels are still a bargain at only £99.29 each (INC VAT). Our panels are made from specially selected FSC timbers and manufactured to a very high standard, planed and pressure treated with a pale green finish that allows the beauty of the wood to show through, not just screwed and treated! Our selection of fence panels has grown exponentially over the past 35 years, we now offer a wide range of panels to suit any need or budget with our cheapest panel being only £20.89 each (INC VAT) – even cheaper than on our retro leaflet!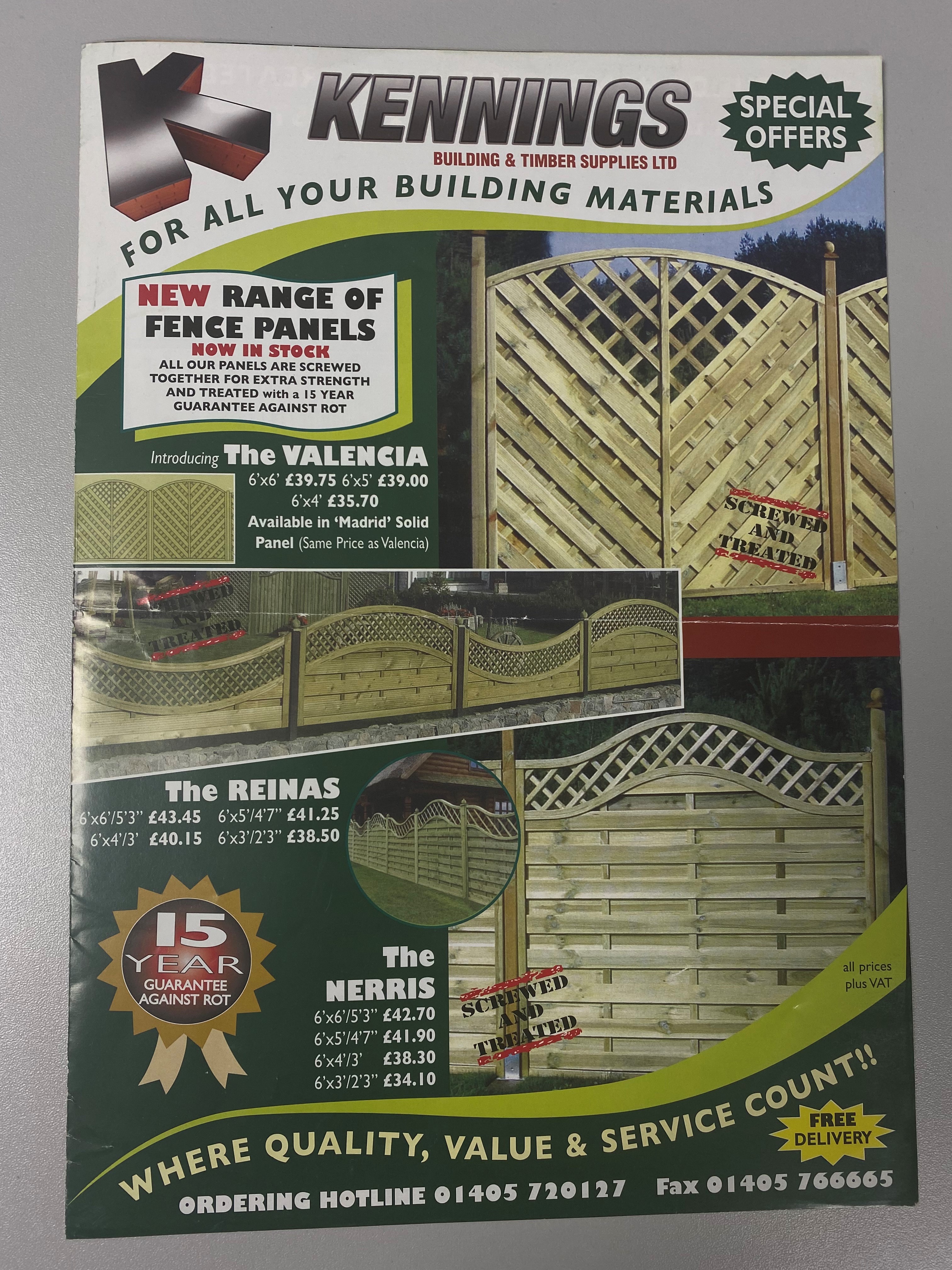 Wheelbarrow Nostalgia
Speaking of bargains, take a look at this poster for our wheelbarrows, only £20 (+VAT) You can still get an amazing deal on our wheelbarrows down at our Hook Road yard, but don't bring this leaflet, the price won't be honored, unfortunately! We have also continued stocking work boots at a substantially reduced price, our fantastic team can vouch for that! But luckily, we have hired a fantastic graphic designer – so our posters no longer look like the below…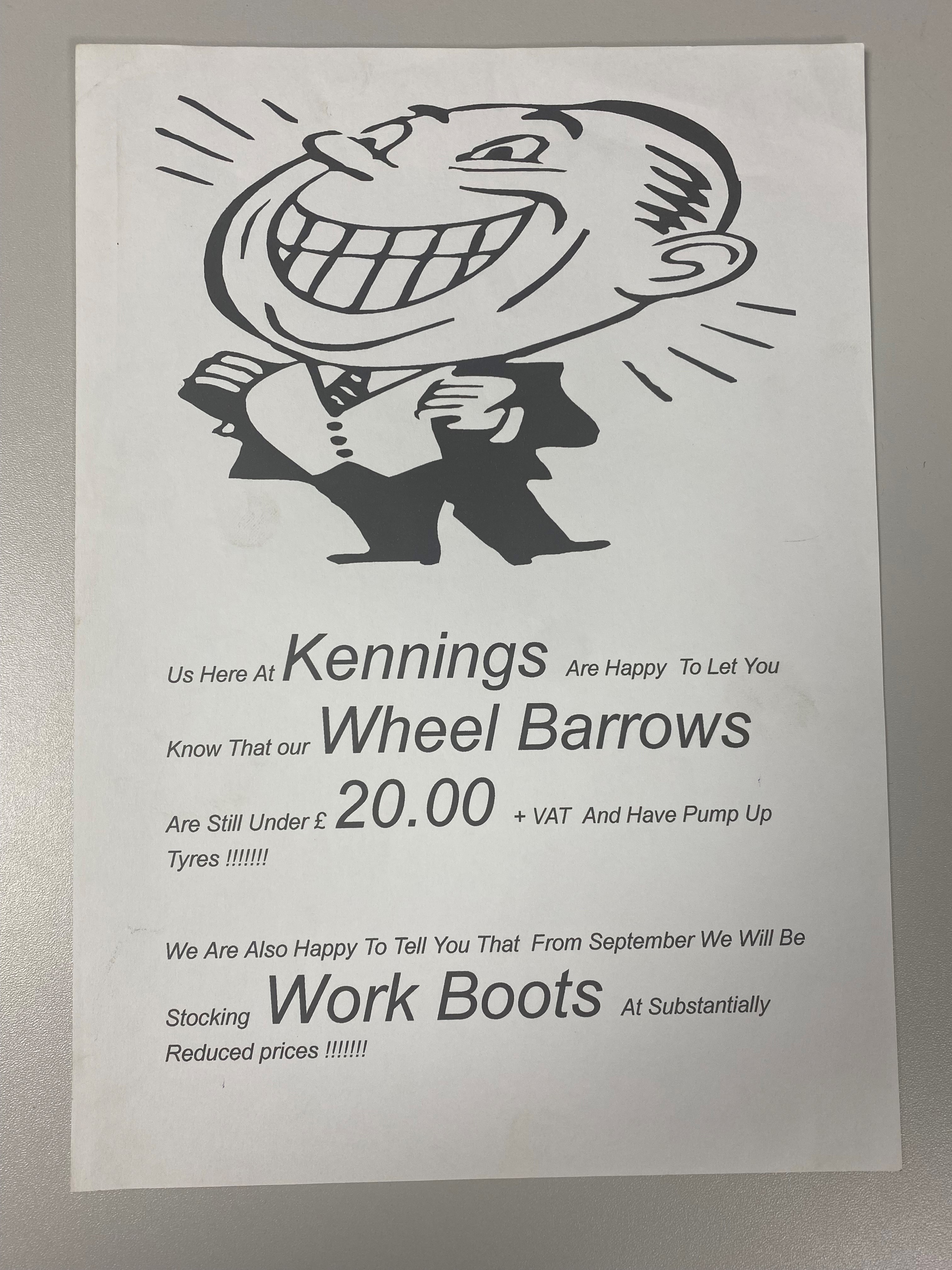 2002 Prices anyone?
While our prices are unbeatable in 2022, they were eye-watering in 2002! Just look at those aggregates for only £3.88 (+VAT), if only we had a time machine like Nigel the Martian. While we would love to still offer the crazy 2002 prices, we still have the same core principles, supplying the customer what they want, delivered on time, at unbeatable prices! Nostalgia aside, we pride ourselves on these core principles and our excellent team of staff is excited to prove that we have what it takes to make your garden dream, a reality. Whether you like to shop online from the comfort of your own home, or would prefer to come to see us in person at any of our sites.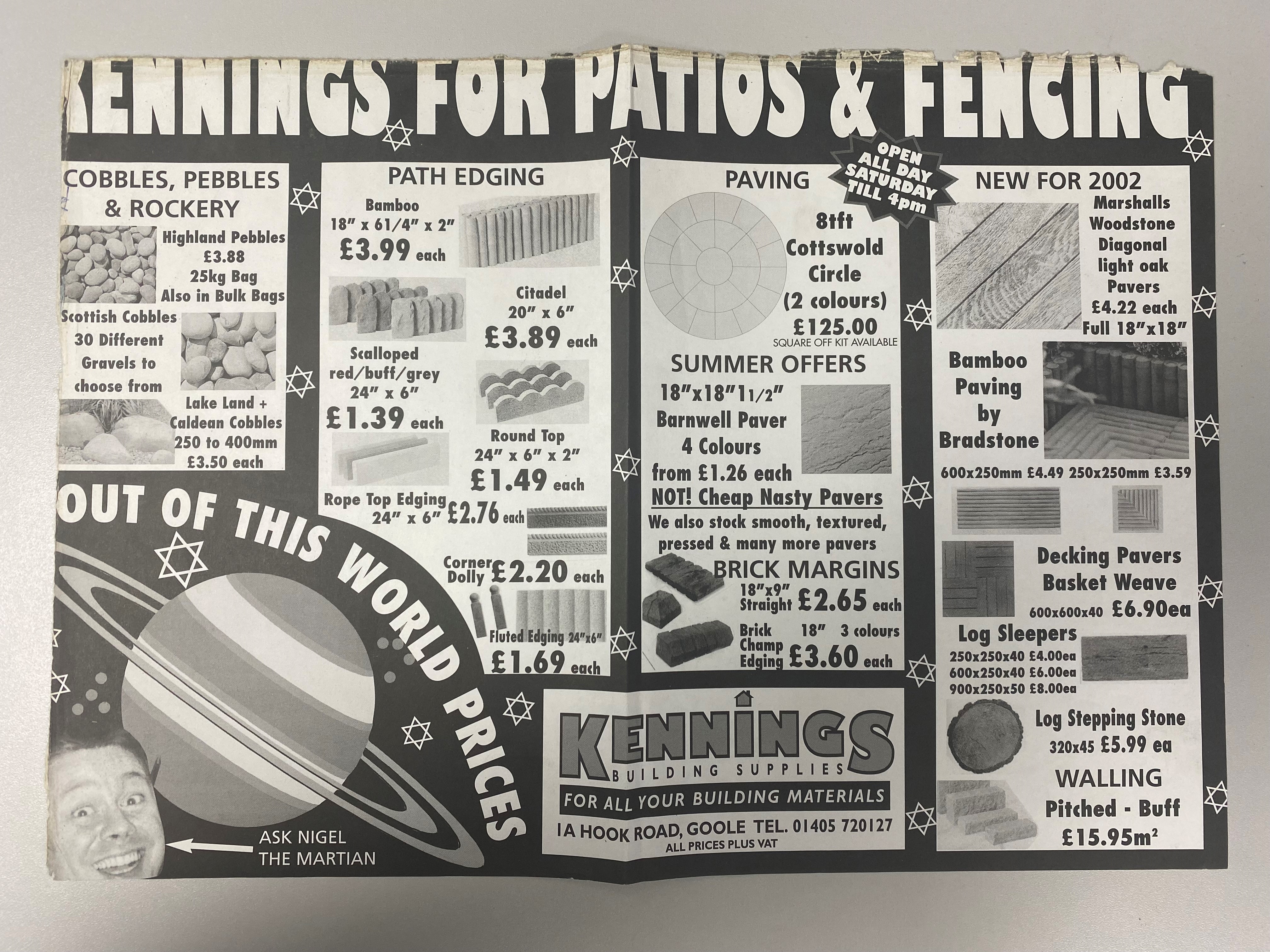 Has all the nostalgia left you inspired? Shop Building Supplies today!
We also offer plenty of support and expert advice for most projects. Just pick up the phone or visit any of our 3 sites located in Goole & Gilberdyke.
At Kenning's, you can not only expect a good deal but also:
Superfast FREE local delivery on most orders *
Handy FREE installation guides (and even instructional videos!)
Incredible prices on composite decking (and frequent big discounts!)
*Free delivery applies to most of the East Riding, but some areas may incur a charge. Minimum charge applies, contact us for more details.
**Prices all correct at time of writing